Pneumatic Actuator with Solenoid Valve Limit Switch Filter Relief-Pressure Valve
Place of Origin:

Wenzhou China

Packing:

Suitable Packing For Sea/Air Transport

Payment:

T/T, L/C, Western Union

Material:

Aluminum Alloy
Pneumatic Actuator with Solenoid Valve Limit Switch Filter Relief-Pressure Valve
Dual piston rack and pinion design os symmetric structures, rapid and smooth movement,high precision, high output power by a simple change in the direction of the piston assembly positions available anti-rotation.

High quality extruded aluminum alloy cylinder block, by precision machining the hole and the external surface of hard anodized,long life,low friction coefficient.

Integrated design,all the double acting and sigle function actuator models have the same cylinder and end caps,easily removed by installing a spring or spring to change themode of action.

Combined pre-spring break Hean whole group, whether in the assembly process or use on-site in both convenient and safe to install or change.

The external side of the two single independent adjustment screw has been number of springs.Installed in the valve for the actuator is precisely to facilitate, control valve open and valve closed position,For the whole trip conditioned office is also confifured in two cover a longer adjustment screws.
APL-210N limit switches send location signal of actuator and valve to the field of remote-control station, which can be installed on the top of actuator directly. It complies with VDINDE3845 standard. It is equipped with field visible location indicator and adjusting cam. Adjusting cam is installed via spline and spring. You can adjust to the needed position when cam is separated from spline. Dismantle screws on the case and two interfaces of cable inlet G1/2". lntemal limit switch is connected to the terminal beforehand. There are 8 terminals, which can be used for magnetic valve connection.
Adjust the switch location according to arrow instruction:
1. Push cam spring, and the cam separate from spline engaging.
2. Rotate the cam casually to adjust to the needed location, after which loosen the cam. Make sure the cam has been pushed back to reset engaging by.
The air units include air regulator, filter and lubricator. Air regulator makes the gas supply pressure stable and constant, so as to reduce damage on valve or actuator due to sudden change in gas supply pressure. Filter cleans the gas supply, which can filter the moisture in condensed air, lubricator lubricates the moveable parts and parts that are difficult to lubricate. This greatly extends the lifecycle of machine.
Product Discription
Product
Pneumatic Actuator with Solenoid Valve Limit Switch Filter Relief-Pressure Valve
Structure
BT Rack, Pinion Rotary Actuator, Solenoid Valve, Limit Switch and Filter
Rotary Angle
0-90 Degree
Air Supply Pressure
2.5-8 Bar
Actuator Body Material
Aluminum Alloy or Stainless Steel
Surface Treatment
Hard Anode Oxidation or Polish
Operating Temperature
Standard Temperature:-20ºC ~ 80ºC
Low Temperature:-15ºC ~ 150ºC
High Temperature:-35ºC ~ 80ºC
Connection Standard
Air interface: NAMUR
Mounting Hole: ISO5211 & DIN3337(F03-F25)
Application
Ball Valve, Butterfly Valve & Rotary Machines
Cover Color
Blue,Grey,Orange & Customized Colors as Customer needs
Drawing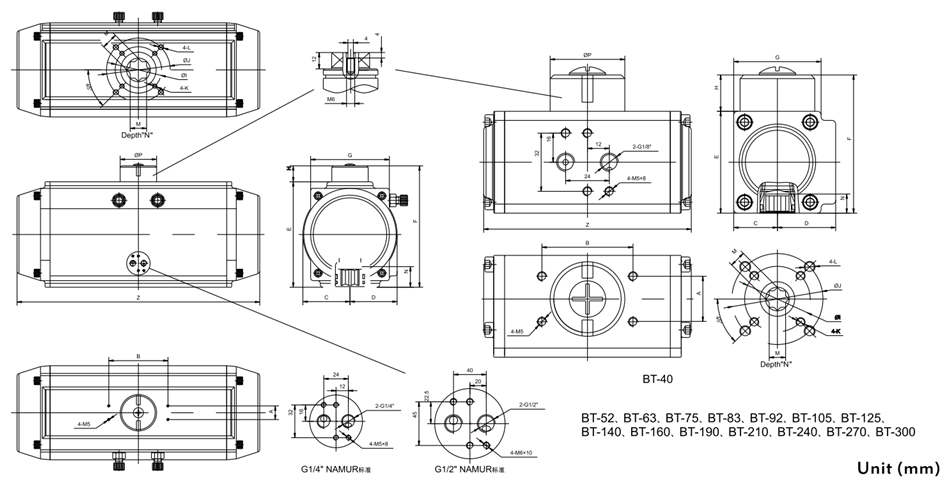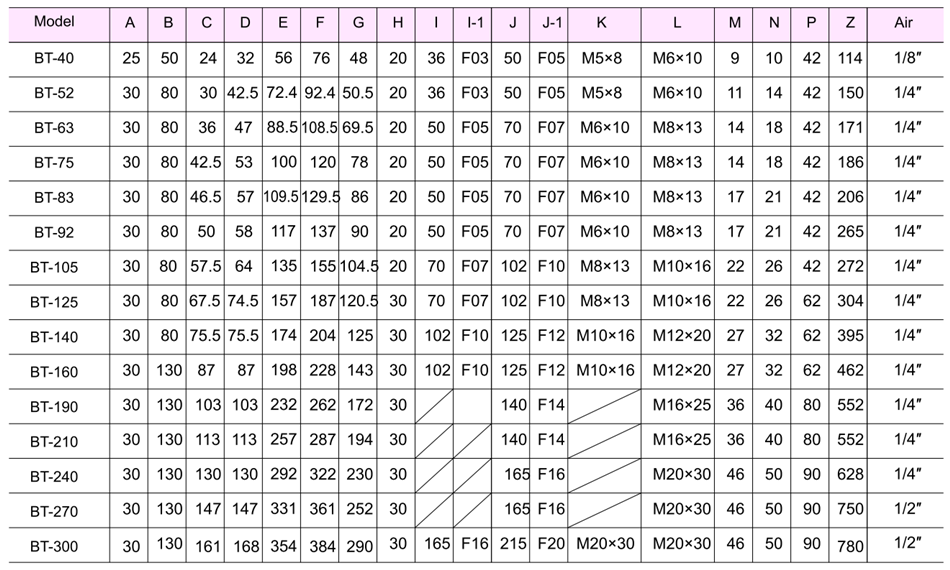 Feedback