ITS300 Series Explosion Proof Position Limit Switch
Place of Origin:

Wenzhou China

Packing:

Suitable Packing For Sea/Air Transport

Payment:

T/T, L/C, Western Union

Temperature:

-20 ℃~+80 ℃
ITS300 Series Explosion Proof Position Limit Switch
ITS position monitoring switch is used for the valve and actuators which rotates 90 degree quarter turn. The first function of ITS is to provide the visual indication of the current position of the valve and actuator. Dome indicator unit shows current position by color indication.
Secondly ITS provide electrical signal at the fully open or closed position by activating mechanical switches (SPDT, SPST), Proximity sensors and other magnetic sensors which independently makes function. Switches vary in a wide range and construction to meet customer's requirement.
ITS 300 series are designed suitable for valve and actuators in hazardous area application, having compact but rubust construction conforms to EN50014 and 50018, also suitable in Zone 1 and 2, and ingress protection IP67.
Rigid and compact design constructed from aluminum alloy die-casting capable of operating even in arduous conditions.
Standard aluminum housing provides reliable explosion proof performance.
Technical Parameters
Explosion proof Ex d IIC T6, O-ring sealed

Epoxy-Polyester outside against corrosion

Nylon Coating
Special color Coating

Higher(~+100 ℃)
and lower (-40 ℃~) temperature

2 – PF3/4″, other standard threads

8 nos of terminal strips
(6 for switches, 2 for solenoid valve power)

Others(3 way L-port, T-port)

Stainless steel acc. to VDI/VDE3845,
NAMUR, SS1, SS2 as standard

2-SPDT mechanical switch(Form C)

DPDT Switches
Proximity sensors(P & F, Autonics)
Magnetic sensors
Position transmitter
(output 0~1Kohm, 4-20mA DC)
Drawing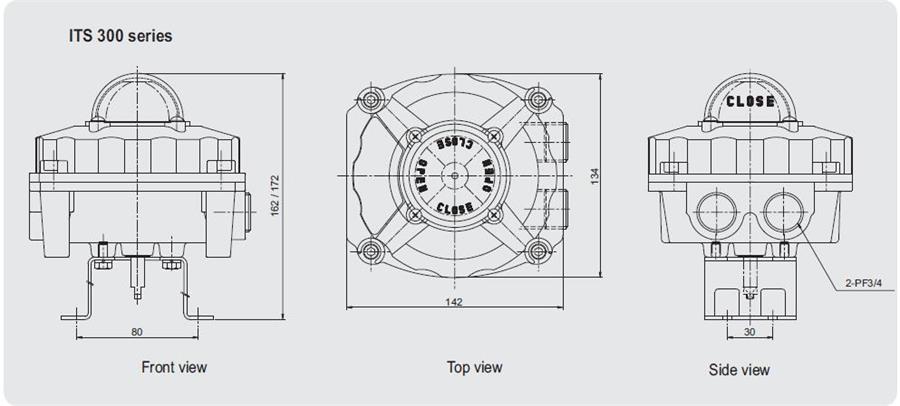 Feedback